Meister Walter Nirschl CSO YORK tuba copy.
New Nirschl CSO York avalible Spring 2018 – contact Floyd at cooltuba@aol.com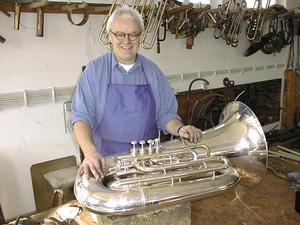 In 1996 we started sales of the Meister Walter Nirschl CSO YORK tuba copy. After more than two  years of development together with  Floyd Cooley the first instruments have been sold to Simon Styles, Richard Nahatzki and Floyd Cooley.
Years later, I have to say that the whole project was and still is a success story. Until now we sold 130 instruments!   Currently  (February 2016), the Nirschl tuba is offered at 16,000 euros net ex our factory (plus shipping), 6000 euro deposit when ordered, the rest upon delivery.  As usual you can buy direct at the factory here in Geretsried, Germany. You are more than welcome to pick your instrument out of a batch of 3 – 4 instruments and spend a few nice days here in Bavaria. Pick up service from and to Munich airport and sightseeing tour included.  Looking forward to meeting you here in Geretsried. – Walter Nirschl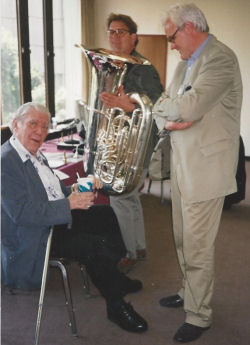 Walter Nirschl and Floyd Cooley discussing the Nirschl York tuba with Arnold Jacobs
The Nischl tuba is the first exact copy of the vintage York instrument played by Arnold Jacobs during his fouty-four year  tenure with the Chicago Symphony Orchestra and now owned by the CSO. While playing with the CSO for the 1992-93 season, I took new measurements of the horn with the help of Tom Curski which Walter Nirschl of Geretsried, Germany and I used to begin design for the new prototype in 1994. We showed the first prototype at the Frankfurt Messe in March 1995, and later in the U.S. at the International Tuba-Euphonium Conference at Northwestern University in June 1995. After testing each of the first production models in Geretsried in December 1996, I chose one of the first five which I played in the San Francisco Symphony. These tubas are manufactured as orders come in. – Floyd Cooley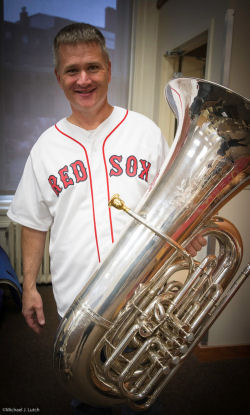 Mike Roylance of the Boston Symphony Orchestra with the Walter Nirschl York Model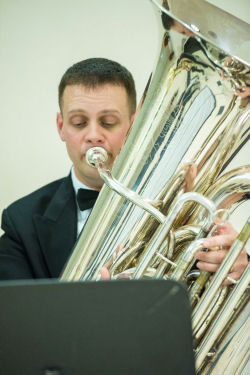 James Hicks, Pricipal Tubist of the United States Navy Band with the Walter Nirschl York ModelSpecifications:
.750 bore
Bell 19 7/8″
Four pistons and one rotary valve
Silver Plated
Each instrument is handmade
Surprisingly lightweight in pounds, but producing a rich, colorful, clear and deep sound.
Gig bags and hard cases specially sized for this instrument are also available.
To Order Contact:
Floyd Cooley –  cooltuba@aol.com
Walter Nirschl – walter@walternirschl.de