Studio Teaching as a Career is a unique class that I began teaching in 2000 at the DePaul School of Music. To my knowledge, this was the first time performance majors were taught specific skills and techniques to effectively teach in a studio setting.
Music students naturally wish to study with the most skilled players. As a result, top performers consistently teach. However, it's rare to find a highly skilled musician who is also a naturally gifted teacher. I have been teaching for 45 years and I can say it was not an enjoyable beginning. My fear of teaching was very similar to my students' fear of playing in front of me. As a result, those early lessons were not especially productive or fun.
All studio teachers draw on their personal experiences as a student, and most pass along their teacher's style and syntax. The studio is a dynamic environment, and experimentation is the name of the game. Everyone learns differently and in order to maximize the potential of each student, teachers must recognize the best way to motivate and communicate with every individual. I strongly recommend that those who are beginning their career as a studio teacher view the Memletics personal skills inventory, an extremely useful tool to help teachers understand their strongest learning and teaching skills.
In Studio Teaching as a Career I teach observation skills as the base for effective teaching. Without this necessary fundamental teachers' directions are more like a blast of scattershot than the pierce of a silver slug. We all know from personal experience that a teacher's ability to inspire has a direct relationship to the students' desire and ability to learn. With astute observation and musical skills, today's teachers can be the best ever.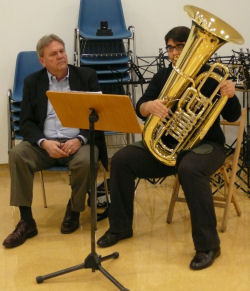 with Ferran Martinez in Valencia, Spain