There are openings in the tuba studio for fall of 2018!
Floyd is a faculty member at the DePaul University School of Music where he serves as the Brass Coordinator and teaches tuba, brass concepts, pedagogy, and teaching people to teach one-on-one.
Since 1992  the majority of Chicago Civic Orchestra tuba players have been a student of Floyd Cooley at the DePaul Music School. The Civic Orchestra of Chicago is the only training orchestra affiliated with a major American orchestra; students such as Bill Adams, Brendon Lukin, Mike Roylance, Jerome Stover, Peter Link, William Russell, Matthew Lyon, Duncan Spry and David Nelson all had the opportunity to play with this dynamic organization.
Former students from Floyd's studio have gone on to full-time positions with the Boston Symphony Orchestra, Louisville Symphony Orchestra, Sendai Philharmonic [Japan], US Navy Band, Royal Australian Air Force Band, Alabama Symphony, Honolulu Symphony, Queensland Symphony Orchestra [Brisbane, Australia], Ball State University, and Auckland Philharmonia [Australia].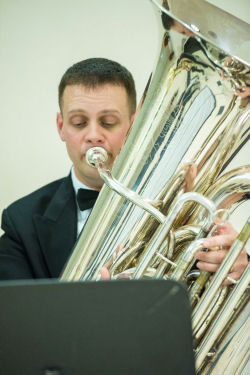 "At DePaul, I developed the skills necessary to make the transition from student to professional. When choosing a school, one must seek the best combination of teacher and musical exposure. The pairing of insightful teaching and mentoring by Floyd Cooley and the renowned musical exposure in Chicago place DePaul at the top of the list!"
– James Hicks, Principal Tuba, U.S. Navy Band, Washington D.C.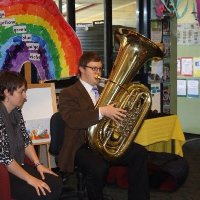 "Studying with Floyd Cooley at DePaul gave Thomas the mental and musical tools he needed to win an audition. Without his time at DePaul, Thomas would never have become a professional musician."
– Spoken of Thomas Alley, Tuba, Queensland Symphony Orchestra, Brisbane, Australia